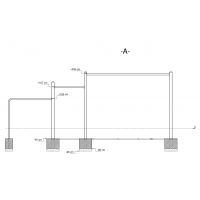 Security tested play equipment
Comprehensive warranty services
Safe checkout
Art-No. 1206132
4FCIRCLE® Calisthenics-Line short
Street-Work-Out -Parcours
Dimensions:

8,47 x 1,40 x 2,26

Total height:

2,26 m

Free fall height:

2,20 m

Falling area (M):

9,99 x 5,33

Age group:

14 and older

Catalog page:

Page 177
Calisthenics-4FCIRCLE® are made for individual customers. There are certain standard systems, for which heights and spacings were defined by Calisthenics atheletes in order to offer optimal training and competitive situations for a broad group of users.
Read More
4FCIRCLE®-Calisthenics units comply with all applicable saftey standards (DIN EN 16630 and DIN EN 1176) which are necessary for the use in public space. We are members in national and international standardization committees and watch very carefully that also customized products always comply with the relevant norms.
Bars and other elements are screwed permanently to the posts. For this purpose we use stainless steel screws with additional plug-in protection so that screws cannot be removed easily. Special tools are required for assembly and disassembly. Through the 4FCIRCLE®-CONNECTION-TECHNOLOGY, it is possible that four bars are fixed to one post at exactly the same height. A relocation of the bars at a later time is only possible to be done by our employees or after an individual instruction by local professionals. We use 10x10 cm hot-dipped galvanized profile as posts. The upper ends are covered by a fully welded cap. We use stainless steel tubes for the bars, ladders and all functional elements. The basic materia is a controversial issue amon users to meet different needs nd wishes we are able to powdercoat the bars.